Hey there. OK, so I just got my DSII and going through it to see how everything works, and hooks up. I have messed with a few other simple boats, and read a lot of books, but dont have a lot of sailing experance. Here is what I have....
OK, so on the end of the boom, there is a block. It seems the one on the side of the boom is for the sail, the angle is all wrong for the one on top. What is it for?? I thought maybe some kinda topping lift, but I see no place on the mast top to fasten a line.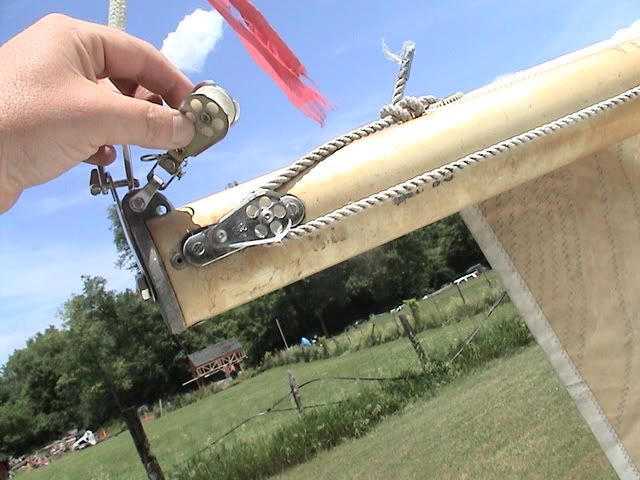 Next is the vang.. I have read up, and seems I just tie a line around the mast through that little eyehook. Mine is below the hinge, most I have seen are above it. Is that a issue?? Also the vang apears to not let line out. How do they work?
Not the main sail... How far should it go up? Seems to stop about this point.
Next, any idea what this is for? there are three on the boom. One for the outhaul, but what are the front one, and the mid one for? the boat was set up for a spinneker, and I think thats what the front one was for, but whats the mid one for??
OK, so I will stop this long post at the mainsheet. Is this hooked up right? Seems kinda fat foward on the boom. Is that normal?? Looks to have been adapted to the midboom sheeting. It has the two blocks in the back, but does not seem to have used them.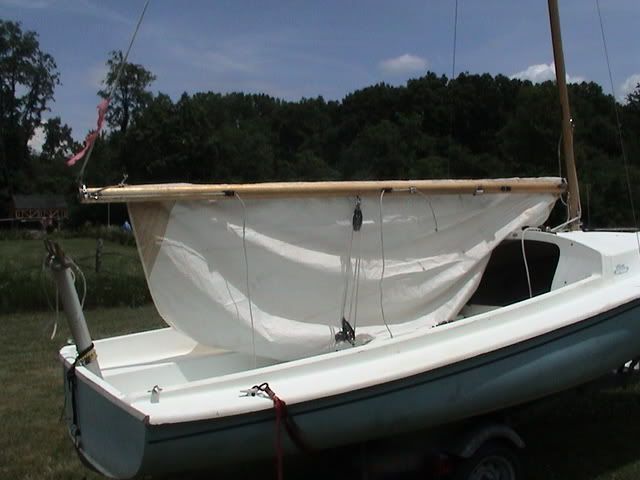 Thanks for any help!!!!